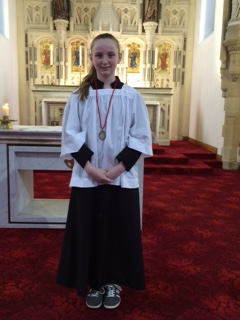 Congratulations to Gemma for serving on the Altar for the last 12 months. She has been awarded a Guild of St Stephen medal.
This week Year 6 has been busy with assessments: a hard-working week. Some children have taken part in school competitions/competitive games:
the School Choir singing competition, winning an artistic award
the Tag Rugby competition
Seasiders Art competition
Netball matches
Football matches
Well done to everyone who represented our school.
We are taking part in the potato growing challenge. Today our two potato champions (Morgan & Gemma) planted the seed potatoes that had been chitting. Hopefully there will be a good crop in June.
Next Wednesday morning we will take part in the Walk for Water. Don't forget to bring in empty 1 or 2 litre plastic containers and to wear suitable footwear and coats.
Certificates were awarded to:
Eva (Conduct) Gemma (Merit) Max H & Harrison (Writing)
Well done!