17 September 2019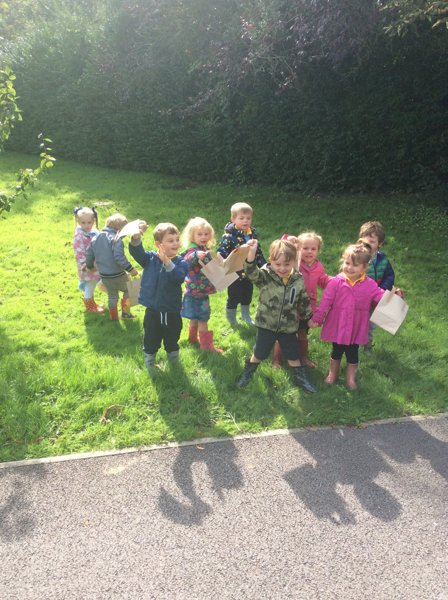 This week we begin our letter 'b' focus. We started by learning the sound. To do this we all pretend to hold a bat, then we have to hit a ball from side to side saying b,b,b,b,b. Then we all had a turn at the formation the rhyme for this is : down the laces to the heel and around the boot. We all talked about how the letter 'b' resembled a welly boot and that should help us to remember the rhyme.
We started to look at Autumn. On Monday afternoon we put on some wellies and our coats and went foraging in Green Drive woodland ( next to school ). We all had a little bag to collect our findings. We talked about the colours of the leaves and which ones to lookout for. We found conkers and acorns too. There was even some cheeky squirrels in the trees throwing nuts at Angela. This was very funny . As Hayley went to pick up a conker a tiny frog jumped up too giving us all a fright.
The weather has been lovely this week so we have been out lots exploring our new surroundings.
Yoga this week followed the story of Dumbo and Mrs Jumbo. We stretched tall like Mrs Jumbo and then stretched wide like Dumbos ears.We then got into lines and marched like the marching elephants.
Angela made hedgehogs this week using Autumn colours and a fork for the spikes. We have watched 'Come outside with Aunty Mabel to learn about Hedgehogs.We also looked for signs of them in the woods when we were having our adventure. (the main objectives for this activity are recorded in the individual observation on 2simple).
This weeks Kindergarten Awards are:
Barney- for his fabulous use of manners at ALL times
Oliver - for being helpful and helping us to tidy
Florence- player of the week in football
Charlotte- Football sticker star
Special request: please can you please save bottle tops for us and household plastic and boxes(not too large) for our creative station.
As a group we are hoping to send some items to a local charity that help families in need. Please if possible could you donate items? Non perishable food, clothing, toiletries, goodies, toys etc (mainly food items however). Angela will do a drop off every two weeks for this cause.
We hope you have a lovely weekend everyone
Angela, Hayley and Mrs Allerton
xxx
Posted by Team Kindy
Category: Kindergarten Blog