26 September 2019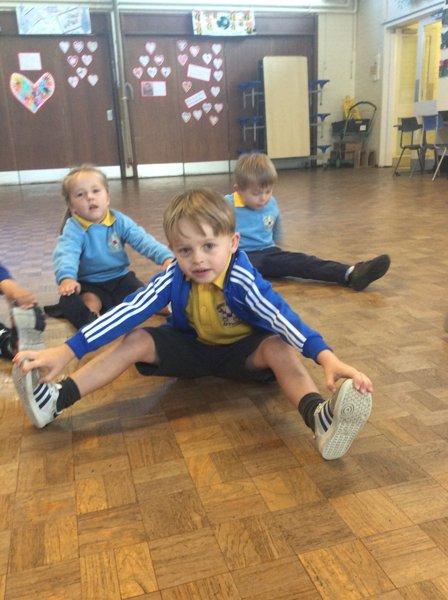 This week our letter focus is 'c'. To sound out this letter we raise our hands and snap our finger as if playing castanets and say c,c,c,c,c. To do the letter 'c' formation we say 'curl around the caterpillar' We had lt's of back to front and upside down 'c' but the formations were clear.
In our hall time this week we did a PE session. We did climbing, running,hopping and to challenge ourselves further we crawled under benches , climbed onto them then jumped off. We practiced squats and balancing on 1 leg too. We all even showed off our catching skills with Mrs Allerton.
We have set up a few different role play/story telling areas this week in kindergarten. We have 'The Gruffalo' and 'Goldilocks' in these areas we have place lots of different props/puppets for the children to help to retell the traditional tales. In addition to this we have set up mummy bears porridge making station in the malleable area. We have included 3 bowls and 3 spoons of differing sizes to encourage mathematical language. There are also Goldilocks masks to help get into character. We will change stories every 2 weeks (depending on interest).
We had a lovely visit today from Alex and baby Iris, Alex is currently on maternity leave and will be back to join our Kindy team in February.
Our Kindy Awards this week are;
Football player of the week : Joel
Football sticker star: Heidi
Weekly certificates: Georgie for trying really hard with her letter recognition
: Barnaby for using his imagination and furthering his language.
Have a super weekend everyone
Hayley, Angela and Mrs Allerton
xxx
Posted by Team Kindy
Category: Kindergarten Blog
---
Leave a Reply