10 October 2019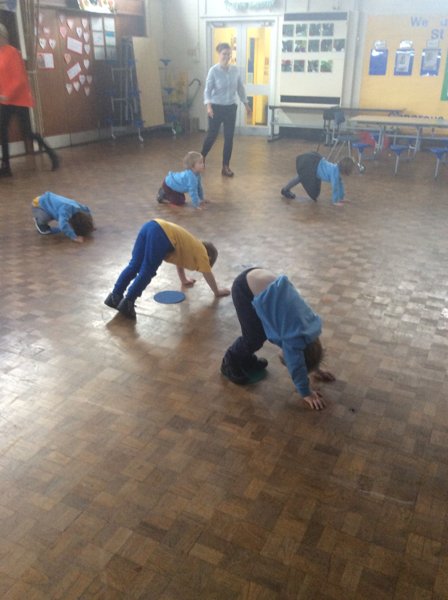 First of all sorry for the missing blog last week . Due to trying out our new app 'Evidence me' all photographs were taken straight onto the app. We hope you are all enjoying viewing our new app and seeing what what we get up to at Kindy on a daily basis. This new app also enables us to print off termly reports and next steps (targets) for next term. You will notice a percentage on the report, this indicates what we have covered within the framework this half term (5 weeks). We will be putting a copy in trays next week ,so please check your child's tray. If you have any further questions regarding the new layout Angela and Hayley will be happy to help.
This week our letter focus has been 'e' to sound this letter correctly our action is 'pretend to tap an egg on the side of a pan and then crack into pan, saying eh, eh, eh. The formation rhyme is 'lift off the top and scoop out the egg' This was a very tricky letter to form but we practiced lots and had lots of fun saying the rhyme to help.
We had another try at yoga this week completing a programme called 'Ruby's broom' this was all about trick or treating at Halloween. We even danced with the skeletons.
This week we did some pumpkin printing using apples. Hayley did an example for us to follow. We talked about how many pumpkins there were, how many eyes there were on each pumpkin and then how many all together. These are now displayed by our Halloween discovery area.
Our kindergarten Awards this week are.
Football player of the week- Edie
Football sticker star- Grace
Kindy award- Florence for her super phonics work and her blending of words.
As a group Kindergarten will be collecting items for our local food bank. We would really appreciate any donations big or small for this amazing charity.
Please note Tempest photography will be in school taking individual photos on Monday morning, all photos will be done within the kindergarten session, Please ensure your child is in full uniform. If your child does not attend that day and you would like a photograph please come to the main entrance at 8:45am.
We hope you all have a lovely weekend.
Hayley, Angela and Mrs Allerton
xxx
Posted by Team Kindy
Category: Kindergarten Blog
---
Leave a Reply