17 October 2019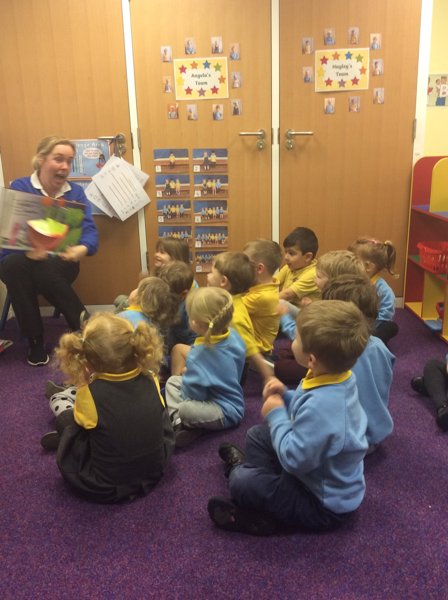 We have completed our first half term at kindergarten and had lots of fun, learnt lots of new things and we have made lots of new friends. We reopen on Wednesday 30th October at 9 am.
This week our letter focus was 'f'. The sound for this is ' hold your hand as if you were holding an inflatable fish and squash out the air saying 'fffffffffff'.To do the formation we say ' down the stem and draw on the leaf'.
This week Hayley brought in some pop up Halloween stories from home. At circle time she got into character and read us these stories. She changed names of characters to people we know ( Angela was the witch, Hayley was the skeleton and the ghosts were Mrs Cross and Miss G). The children laughed and squealed throughout and were very vocal about the story and what might happen.
Angela made some yucky Halloween orange Jelly is was very messy and very fun.
In our glueing and sticking area this week we made cotton bud skeletons.We looked at example pictures and Angela and Hayley even had a go to give us ideas.
Lots of fresh air this week outdoors on the trim trail.
Please don't forget to check and empty your child's tray daily/end of each week, so important school correspondence is not missed.
This week Mrs Allerton leaves KIndergarten but its not goodbye as she has taken a new position within school and has promised to come and visit us lots.
Joining Kindergarten to help us until Alex returns in February is a lady called Mrs Cooke (Laura) , some of you might know her as Verity's mum.
We hope you all have a lovely half term and see you soon for another fun, exciting and glitter filled term.
Hayley, Angela and Mrs Allerton
xxx
Posted by Team Kindy
Category: Kindergarten Blog
---
Leave a Reply