15 November 2019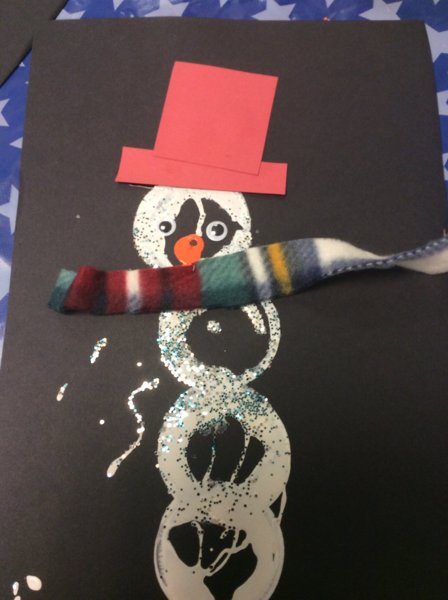 This week kindergarten have been busy starting our Winter topic.
We made snowmen by first rolling a dice to find our unique magic number as the base for snowman's body. For example 4. We then chose cold colours either blue or white. Printed a body using yogurt pots and sprinkled with a little glitter to make it icy and sparkly. I then asked how many eyes our snowman would have and we stuck on two. We made a hat which consisted of 2 common shapes which the children were asked to name (a rectangle and a square). To finish our amazing snowmen off we had a little chat about the cold weather and what we would wear to keep our neck warm so we then encouraged the children to stick on a scarf. All snowmen are displayed in kindergarten
For another activity we practiced our cutting skills making a different snowman. First we coloured in some winter clothing then we tried our best to cut out the clothes and stick in the correct place on our snowman template.
Please ensure your child has a hat and gloves (named) in school for outdoor play as its very nippy out there.
We are also still collecting non perishable items for the food bank too.
The ongoing problems with Angela's ipad is continued apologies for any observations not sucessfully sent. The app developers have assured us that they are working to correct the problems so fingers crossed.
Dates for diaries
- Friday December 6th:- Own clothes day for PTFA Christmas fair
-Friday December 6th:- Tour for reception class for parents whose children who are hoping to start Sept 2020.
-Saturday December 7th December:- PTFA Christmas fair in the school hall (if you would like any raffle tickets please let us know, there are some fabulous prizes to be won)
-Tuesday December 10th:- Whole school pantomime trip to see Aladdin at Lowther
-Friday December 20th:- School closes for Christmas at 2pm.
Have a lovely weekend everyone and if your heading to Lytham lights switch on.
Hayley, Angela and Laura
xxx
Posted by Team Kindy
Category: Kindergarten Blog