21 November 2019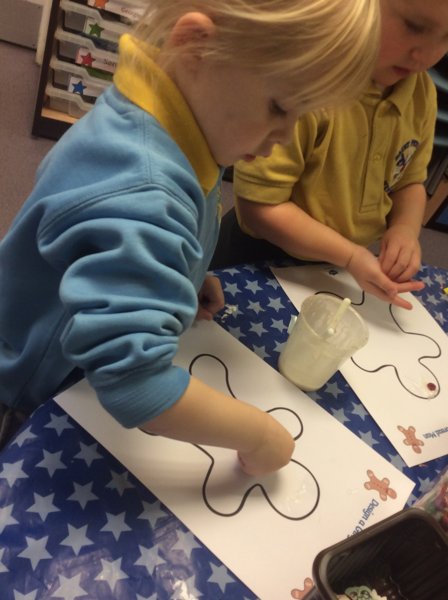 We have had another extremely busy week in kindergarten again this week. We started off the week focusing on our next letter which is 'k'. This has been a tricky one to grasp but all the children were eager to try. The formation rhyme for 'k' is "down the kangeroo's body, then his tail and leg."
We completed a worksheet using different sized penguins. The learning objectives were to gain understanding and knowledge of estimation, counting, number recognition and formation. The children all showed great skills and concentration.
This week we read the story the Gingerbread man, the children were very interested in the story so I suggested we make a giant Gingerbread man by drawing round one of the children (Teddy volunteered). We sponge painted the cut out and added lots of ribbons and buttons. Due to the fascination of the story we also made some mini Gingerbread men calendars by gluing and sticking on ribbons and buttons. (displayed in Kindergarten). Next week we will be enjoying some gingerbread men treats thanks to Alice ( Angela's mum).
Dates for diaries
- Friday December 6th:- Own clothes day for PTFA Christmas fair with a donation of either chocolates or biscuits towards the fair raffle.
-Friday December 6th:- Tour of reception class for parents whose children who are hoping to start Sept 2020.
-Saturday December 7th December:- PTFA Christmas fair in the school hall (if you would like any raffle tickets please let us know, there are some fabulous prizes to be won)
-Tuesday December 10th:- Whole school pantomime trip to see Aladdin at Lowther.
A letter/email will be sent out regarding our Panto trip. Mrs Heyes has invited us to join the whole school's annual trip to see Aladdin at Lowther Pavillion. How very exciting. We hope you can come and join the fun.
A reminder that Kindergarten closes on Friday 20th December at 2pm.
Have a lovely weekend everyone,
Hayley, Angela and Laura.
xxx
Posted by Team Kindy
Category: Kindergarten Blog