6 December 2019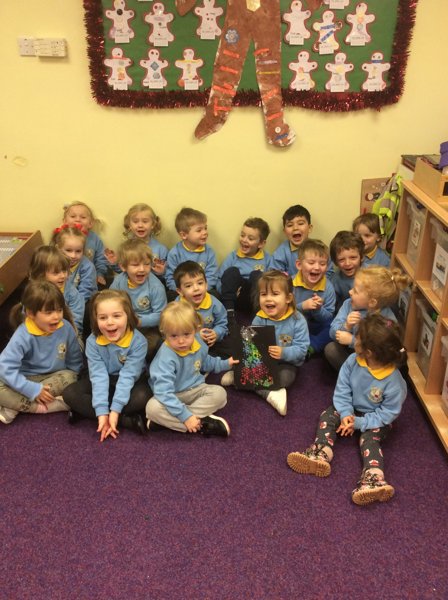 On Monday morning the elves visited Kindergarten and decorated the room .We put Christmas music on and we started our festive activities. First up cards, we painted bubble wrap with lots of bright colours and printed onto black card to make pretty trees. Of course glitter is essential at Christmas time so there were lots of sparkly children this week. We also made a large scale card with the same design to send to Milbanke care home to wish all the residents a Merry Christmas. (see above picture).The residents thanked us very much and said it was very thoughtful and they loved receiving it.
Over the past few week Hayley has been collecting bottle tops with the help of other staff in school. This week we separated these in to colour groups (the majority being green). We used these to create our very own Christmas trees.
Tomorrow is our school Christmas fair 11:30-1:30 in the school hall, all welcome. Father Christmas will be paying a visit too.
Next week is a very festive but busy week for kindergarten. Our panto trip on Tuesday morning. Please wear full uniform. Also throughout the week we will be watching the school nativity play dress rehearsals. This is nice as kindergarten have a lot of siblings within the school.
Thursday 19th December is school Christmas Dinner day, all children in on this day are invited to join in with the festivities. This day is also Christmas jumper day so come dressed as Christmassy as you like.
Friday 20th December we will be closing at 2pm.
Thank you to all who donated gifts towards our Christmas fair.
Have a lovely weekend everyone.
Hayley, Angela and Laura
xxx
Posted by Team Kindy
Category: Kindergarten Blog