23 January 2020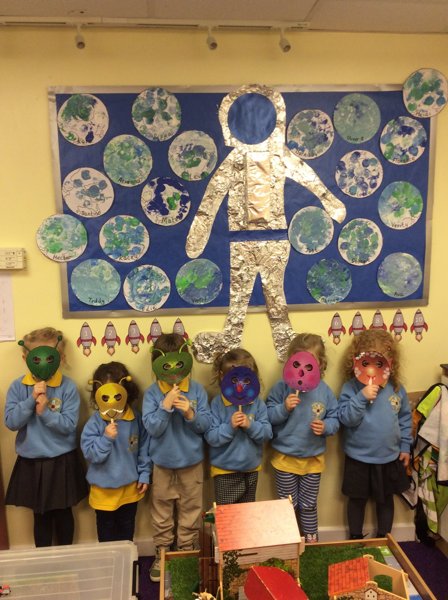 Hello everyone,
It has been an extremely busy two weeks in kindergarten so apologies for the missing blog last week.
The letters we have covered in phonics have been (q qnd r). The sounds for these are q= make a ducks beak with your hands and say (qu,qu,qu) and the formation rhyme is Round her head,up past her earring,down her hair and flick. We did find this quite tricky but we practiced lots. The sound for r= pretend to be a puppy holding a rag, shaking your head from side to side (rrrrrrrrrr).The formation for this is,down the robots back and curl over his arm.
Last week we continued our space theme pretending to be aliens and singing 5 little men in a flying saucer. We also continued with our rocket building challenge .
We introduced 'Get Squiggling' to the children this week. This is a short Youtube program showing children how to draw step by step. We chose a spaceman and a robot. The children concentrated well and produced some fantastic drawings.
This week we have talked alot about Chinese New Year which takes place on the 25/01/20 this year and is the year of the Rat. We watched a couple of short videos about how the Chinese celebrate this and what their traditions are. It was all very interesting to see how they dressed, how they danced and also what foods they ate. One particular observation was there was lots of things that were red and it was explained that Chinese people say red means lucky. In our dance lesson this week we did Chinese dancing using bright colourful ribbons and then took turns parading under a cloth being a Chinese dragon.
gallery:Kindy
On Friday we sampled some Chinese food.
.
Please can you ensure all uniform is clearly labelled. This week we have had a couple of jumpers go missing/ get mixed up after football on Tuesday, please can you have a look for a size 24 jumper with a black label that may have made its way home to you by mistake , Thank you all.
Please check/empty your child's tray at the end of each week as important letters could be missed if not.
Hope you have a lovely weekend everyone, see you all next week for another fun filled week.
Hayley,Angela and Laura
xxx
Posted by Team Kindy
Category: Kindergarten Blog