30 September 2021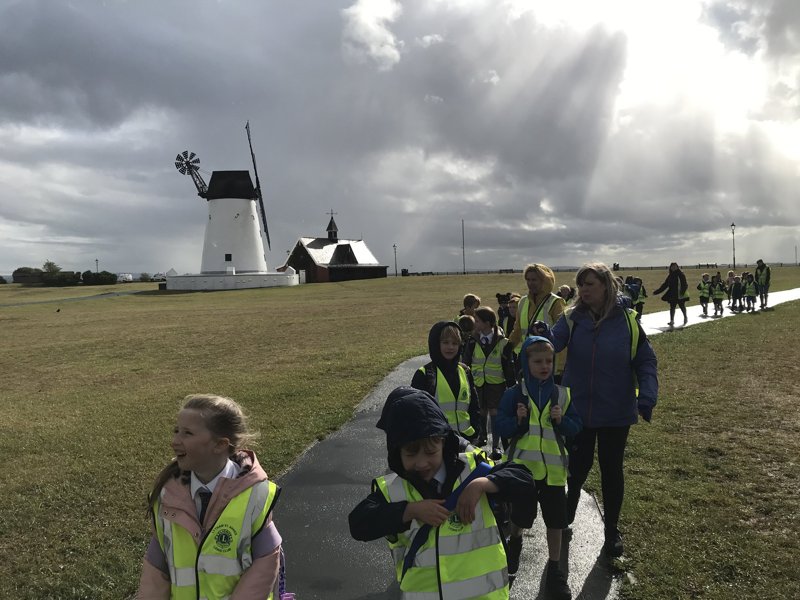 Well Autumn has definitely arrived!
This week we have been learning about fact families and using part whole models to help us to understand the link between addition and subtraction.
In English we learned about writing a recount. This was very useful because we had plenty to write about after our walk into Lytham!
On Wednesday we put on our waterproof coats and headed out to Lytham. First we visited the library and met Rachel. She (and Mrs Smith) would be delighted if more of you returned and joined the library. It's easy and free and opens up an amazing selection of books! Try to join asap. Next we spent time looking at and drawing the designs and creatures featured on the lovely mosaic in Lytham Square. What a beautiful feature this is! After that we walked onto the promenade and along to the shelter near the windmill. We had our snacks and waited for the rain to stop but it didn't. We were getting hungry so we took some photographs of the windmill to use in our art lessons and headed back to school. The sun came back out, the rain moved on and a rainbow appeared in the sky! What a great trip it was!
Thank you to the parents and staff who helped us.
This week's certificates are awarded to;
Outstanding Learner: Gustaw
Writing: Elizabeth
Virtue: Compassionate and loving: Oscar
Congratulations to you all!
Please check the newsletter for all the important information you need. Parents' Consultations are the 11th and 12th October.
Don't forget to finish your significant places homework, check the spellings (week 4) and keep up with your reading.
Posted by Mrs Smith
Category: Year 2 Blog